Chat reblogged from WHAT IS THIS I DON'T EVEN with 571,201 notes
WiFi: connected
Me: then fucking act like it
Source: gay-writes
Photo reblogged from The World's Finest with 40 notes
Press Release For "Justice League: Gods And Monsters Chronicles" Animated Shortform Series

Photoset reblogged from Alternico! with 3 notes
This is without a doubt one, if not the best looking Batmobile ever.
Photo reblogged from with 1,344 notes
Daddy's Baby Girl - Kristoff & Heidi
One for Kris and Heidi, because I haven't drawn him with her yet. <3

I blame the entirety of the KristAnna fandom for giving me these ridiculous daddy!kristoff feels. I hope you're proud of yourselves.


Quote reblogged from You See, There's These Sisters with 4 notes
Disney can't hold it back anymore: Elsa's getting the bridal treatment! The team behind Frozen, the highest-grossing animated film of all time, is linking up with Disney Consumer Products and wedding and bridesmaid gown designer Alfred Angelo to release a dress inspired by the gorgeous Snow Queen of Arendelle—and InStyle has the exclusive first look.

"A character like Elsa is a huge inspiration for any designer," says Alfred Angelo's Chief Creative Officer Michele Piccione, who designed the dress. "She is beautiful and elegant, and her inner beauty shines through when she is ultimately not afraid to embrace who she is with confidence and poise."

To start the design process, Piccione looked at the moment in which Elsa transforms and "finally embraces her icy powers" during the song "Let It Go," a tune so magically voiced by Idina Menzel. "We wanted to translate Elsa's inner beauty and individuality into a sophisticated gown that exudes this," says Piccione.

The result is an ice blue softly-flared sheath gown with a sweetheart neckline made with layers of satin, tulle, glitter net and organza (sketch shown above). All-over beading in swirling patterns cover the gown so it shimmers like Elsa's so very treasured fresh-fallen snow. A Watteau train, a classic style that drapes from the shoulders to the floor, adds a finishing touch and "captures Elsa's regal appearance and her bold personality," Piccione notes.
— Sharon Kanter, Instyle Magasine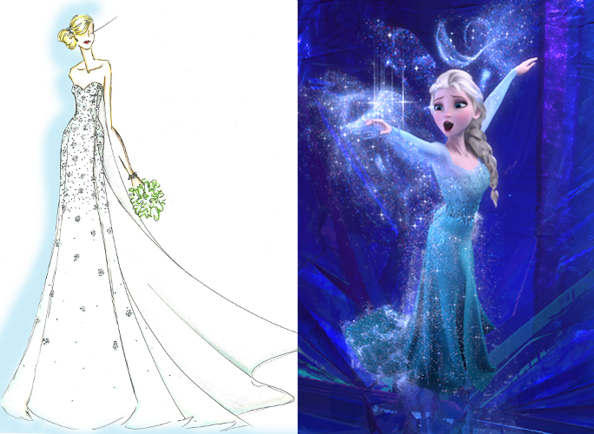 (via
throughthefjord
)
Photo reblogged from Just Keep Scrolling with 22,591 notes
Same
Source: bunnyhepburn
Photo reblogged from Hope You Are Quite Prepared To Die with 64,027 notes
This is what happens to a basketball court when the pipes burst

this is the greatest basketball challenge of all time
Source: stunningpicture
Photoset reblogged from Hope You Are Quite Prepared To Die with 1,626,526 notes
"This leaves men confused and unable to pigeonhole you. What they are forced to do instead is… take you seriously."

Reblog every time.
Source: un-usuall-m3mory-x3
Post reblogged from Hope You Are Quite Prepared To Die with 35,872 notes
What if Supernatural was about two demon brother's that went around killing hunters?

We're halfway there
Source: mishasminionnamedsunny
Post reblogged from Hope You Are Quite Prepared To Die with 220,089 notes
boys…i have a hint 4 u: black skinny jeans
Source: bowielegged